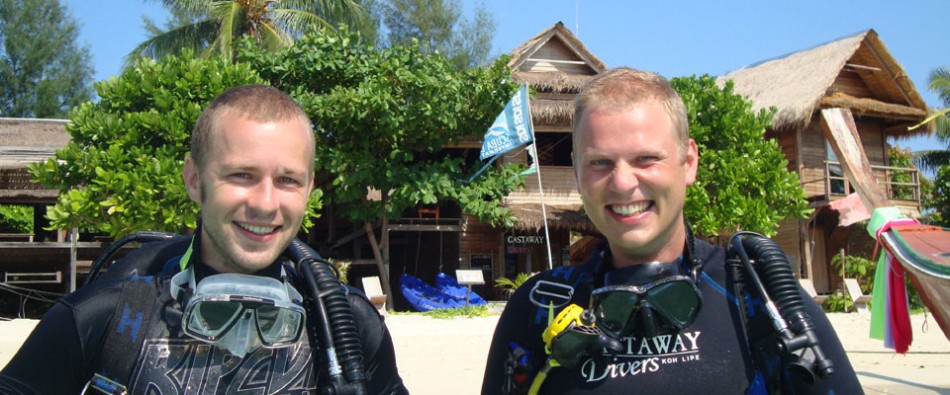 Divemaster
Becoming a Divemaster is the first step in a professional career in recreational diving. We offer 2 routs for becoming PADI Divemaster, you can choose between a 3 week Divemaster course or a more in depth Divemaster internship.
What is a Divemaster?
A divemaster is an integral part of the dive community. Divemasters support instructors on diving courses; guide already certified divers on their fun-dives and in some cases even take new divers out on their Discover Scuba experiences. Becoming a divemaster is a fun and interesting way to gain employment while traveling and to experience life in a new place… Once you are a divemaster you can further your professional certifications by becoming an assistant instructor or instructor, opening further doors and opportunities around the world.
Becoming a Divemaster…
PADI Dive Master internship
Every year we take on a small number of divers and soon-to-be divers as interns and train them to be Divemasters. As a Divemaster trainee you work in the dive shop alongside our enthusiastic and highly qualified instructors. The main focus of the internship is on increasing your experience and leadership, whilst you study. You will advance your dive knowledge through a combination of bookwork, hands on training and independent study. You will work daily alongside our experienced instructors and learn from their many different styles of teaching and diving.
An internship is a great way to immerse yourself in the life of a dive shop. You learn much more than just the theory behind being a Divemaster. You will experience the rhythms of a dive shop, the day-to-day interaction with customers, looking after and preparing equipment and, most importantly, you see people learning to dive first hand allowing you to start developing your future teaching/guiding style.
The Divemaster internship is also a great way to create contacts and connections within the dive world and to meet new people and experience new things. At Castaway Divers we encourage our interns to learn more than just the dive aspects of a dive career and expand their knowledge to conservation, species identification and marine life awareness among many other things.
Why Castaway Divers for a DM Internship?
We are a small shop with an intimate family atmosphere and a team mentality, our instructors will take the time to give you one-on-one guidance and share their personal habits and obsessions. From underwater photography to a love of a particular species to nerdy equipment fixations our instructors will share it all. At Castaway Divers you are not just a number in a huge group of DM trainees, you will be one of only a few select divers, getting plenty of hands on practice and will be fully prepared to work anywhere in the world when you leave us!
We have several DM Internship packages available, price and duration depends on what level of diver you arrive as. Please email us at [email protected] for prices, packages, low-season specials and any further information you would like.
PADI Divemaster Course
If you are strapped for time we do offer a 3 week divemaster course. For this you must have current and valid EFR training and be certified as a PADI Rescue diver. This course lasts only 2-3 weeks. A divemaster course will give you all the required training but little hands on experience and is best for those who only want the certification rather than those who are looking to work in the industry.