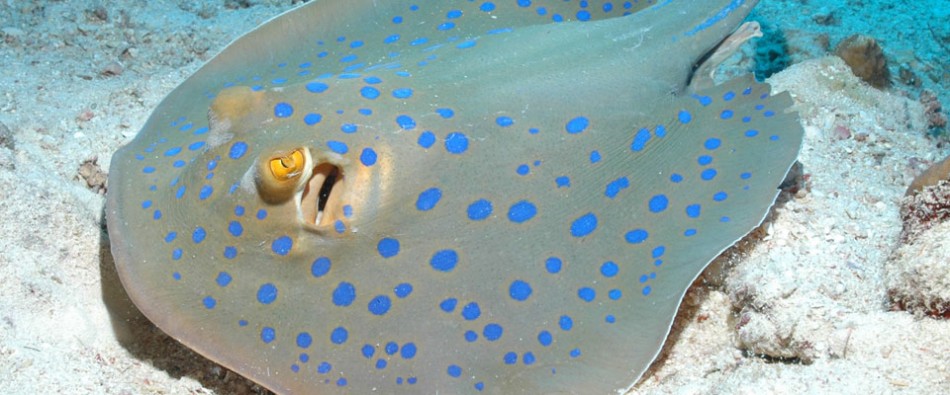 Favourite Dive Sites
Koh Lipe is surrounded by over 30 islands and hundreds of reefs all within easy reach of our Dive centre. Tarutao National Park is one of Asia's oldest marine parks thus the reefs and the islands surrounding Koh Lipe are in very good condition, nowhere else on the southeast Asian peninsula will you find so many excellent dive sites so easily reached. Below are just a few examples as to what's on offer.
Currents: The currents here are predominantly tidal which means certain times of the month we experience strong currents and at other times none at all. We can always find somewhere good to dive but the widest selection of dive sites is available twice a month, following the half moon.
Soft Corals: The highlight of the diving here is the soft coral and macro life. We have several sites, mainly granite pinnacles, on which soft corals thrive in abundance, in many different colours.
Big Stuff: Every year we see numerous sharks, whale sharks and manta rays. Sightings of the big guys are not predictable but more likely on sites around the edge of the marine park, nearer the deeper waters. For the best chance try to visit 8 mile rock, Stonehenge or Koh Pung.
Koh Usen – Mild to Very Strong Currents 5m – 25m Depth
Just minutes from the resort this site is great for a fast drift dive or a slower search for well hidden suprises.
Koh Usen is a small island just off the southern end of Koh Lipe's sunrise beach. The reef runs south from Koh Kla and becomes a steep rocky slope behind Koh Usen, on the islands south side huge boulder corals rise up into the shallows.
Along the reef are several huge gorgonian sea fans, barrel corals and abundant bubble coral. Octopus and moray eels hide in the rocks and many fish including boxfish, pufferfish, surgeonfish and schools of fusiliers are found here.
For an interesting slower dive, explore the reefs bottom edge for exceptionally well camouflaged demon stingers, flying gurnards, mantis shrimp, and stick pipefish.
Highlights: gorgonian sea fans, bubble coral, demon stingers, mantis shrimp, Octopus
Stonehenge – Mild to Strong Currents with 5m – 25m Depth
One of our favourites and right on the doorstep. The topography itself makes it well worth a visit and so does the huge variety of marine life. Only a 10 minute boat ride away from the resort lies a range of submerged pinnacles; formed by impressive granite stone formations rising up from the seabed, the topography of the dive site itself makes it well worth a visit. This site has something for everyone – the top of the pinnacles are covered in brilliantly coloured soft corals, while deeper down a white variation lives on the granite rocks. There are big barrel sponges, gorgonian sea fans and bright red anemones.
This all attracts a huge variety of fish life from; frogfish, ornate ghost pipefish, seahorses and nudibranchs to lionfish, batfish, huge moray eels and schools of pelagics such as barracudas and trevallies. It's also one of the more likely spots to encounter leopard sharks or even a whale shark!
Highlights: Topography, Soft corals, Honeycomb moray, Lionfish, Frogfish, Seahorse
Yong Hua Wreck – Mild to Very Strong Currents with 30m – 40m Depth
This impressive wreck; a fish processing boat, 75 meters long, caught fire and sank in deep water not far from Koh Lipe over 12 years ago. The wreck is lying on its port side in 45 meters of water, rising up to 30 meters depth .Soft corals and sea fans have started to grow, attracting lionfish and scorpion fish. Groupers lurk in the dark opening and pelagics like tuna and trevallys can also be spotted here. During ascents a school of hundreds of large barracuda's often come in to circle divers on the line, completing a very impressive dive.

Highlights: The Wreck, Barracuda's
Koh Yang(south) – Mild Currents with 5m – 30m Depths
A diverse site with lots of variation in scenery. Granite Fingers reaching down to the depths form sheltered bays with abundant marine life. Keep an eye out for macro life
Shallow bays with healthy hard corals are home to many reef fish including different types porcupinefish, pufferfish, butterflyfish and sea kraits. The granite rocks form steep walls with soft corals and deep cracks hiding various shrimps and pipefish. Deeper down, large boulders provide shelter for juvenile angel fish and spiny lobsters. This site can be dived many times with a different experience every time.
Highlights: Sea Krait, Pipe Fish, Spiny Lobster
Koh Adang (Nursery Bay) – Mild Currents with 1m – 15m Depth
A perfect training site with plenty to see, be it your 1st or 100th dive! This sheltered bay at the north end of Koh Adangs long beach is often used for our training sessions. The large sand patch, perfect for training, is also popular with baby blue-spotted stringrays and moray eels. The reef either side has great hard corals, giant clams, and serves as a nursery for many different juvenile fish. Amongst our favourites are the juvenile yellow boxfish, harlequin sweetlips and yellowtail barracudas.

Highlights: Giant Clams, Juvenile Fish, Honeycomb Morays
Koh Adang (Hin Yai / Big Rocks) – Mild to Very Strong Currents  with 5m-30m Depth
Koh Lipes expressway – a great spot for a fast drift! On the west cost of Koh Adang, at the right time of the month, strong currents flow through the channel between Koh Adang and Koh Rawi. Huge Boulders lining the coast appear one after the other as you fly along. They make convenient spots to stop for a minute; have a look and you may find large rays or nurse sharks sleeping underneath. Also seen here are clown triggerfish, juvenile emperor angelfish and for those who like the smaller things; maldavian sponge snails.

Highlights: Nurse Shark, Clown Triggerfish, Maldavian Seasnails
Koh Sawang Depth – Mild to Strong Currents with 5m – 35m Depth
Christmas Tree Rock, spectacular soft corals and less commonly spotted reef fish all make this site a great dive site.
On the south edge of the marine parks, this site can be dived on either side or around the islands point. The shallows host large colonies of hard corals, on the southern side colourful soft corals clad the rocks which drop sharply down to deeper waters. Off the islands point, Christmas Tree Rock, a 10m tall cone shaped rock covered in white soft corals, alone makes this site worth a visit. Some of the less commonly sighted reef fish are often found around here, including Pennant Bannerfish and Long-nose Butterfly fish.

Highlights: Spectacular soft corals, Nudibranchs, Butterflyfish.
Koh Pung Depth – Mild to Very Strong Currents with 5m – 35m Depth
Koh Pung is one of the most diverse and colourful dive sites within the marine park. It can be dived by all levels, but strong currents can require advanced diving skills. Sitting in the narrow channel between Koh Rawi and Koh Butang, almost anything can be seen here, from seahorses, to turtles. Strong currents through the channel can also attract bigger fish. The scenery changes at every turn; large rocky outcrops covered in colourful soft corals, very healthy large boulder corals, gorgonian sea fans, and in the deeper parts, big boulders are covered in white and purple soft corals.

Highlights: Spectacular soft corals, Octopus, Pipe fish
Sail Rock – Mild to Strong Currents with 5m-18m Depth
The diversity of hard corals as well as a chance to see reef fish that are rarely seen attracts divers to this dive site.
This site is a submerged ridge running parallel to Koh Butangs south coast. Usually the currents are mild, making it an easily accessible dive site. Along the ridge you can find an amazing variety in hard corals, which in return attracts some a diverse selection of marine life. The cracks in the rocks hide banded boxer shrimp, nudibranchs and flatworms. A group of batfish likes to hang out here and an enormous giant puffer fish lives around a small cave at the southern end. In the sand lie sting rays, and a number of different scorpion fish. Occasionally hawksbill turtles are found here feeding on the sponges.

Highlights: Turtles, Sting rays, Giant puffer fish, Batfish, Diverse corals
8 Mile Rock – Mild to Strong Currents with 16m-40m Depth
If you're not an advanced diver yet, now is the time to do it, because this is a top dive site, not to be missed!
This site consists of several submerged pinnacles reaching up from below 40 meters to 16 meters depth. 8 Mile Rock is one of the spots in our area where you are more likely to see Whale Sharks and Manta Rays, it's a great feeding ground for pelagics such as Barracuda and Trevally, which in turn can also draw in bigger things such as Sailfish. Deeper down, Leopard sharks are usually resting on the sand and a resident huge Giant Grouper can be found hanging out between the rocks.
The pinnacles are home to a good variety of marine life, in particular; Moray Eels, Lionfish and Scorpion fish, Underwater photographers with a sharp eye will have a great time searching for macro life and maybe lucky enough to find Ornate Ghost Pipefish hiding in the cracks. While on the safety stop, being circled by manta rays, devil rays or whale sharks makes the perfect end to any dive. Just keep your fingers crossed!
Totally exposed in the middle of the ocean 8 Mile rock can only be dived on certain days of the month, due to strong tidal currents. The best time to dive is just after half moon, so check your lunar calendar if you want to dive here. Because of the tidal currents, variable visibility, and the depth of this dive site, we recommend that you are qualified as an advanced diver or have similar experience.
Highlights: Leopard Sharks, Giant Grouper, Manta Rays, Whale Sharks