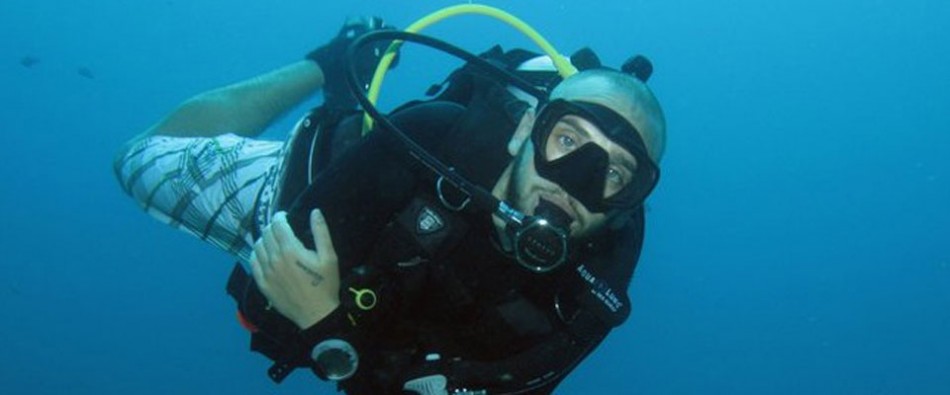 Nitrox
If you want to make the most of Koh Lipe's deeper dive sites then you should consider diving with a nitrox gas mix. Diving with a nitrox gas mix will allow you to extend your bottom times and to dive more whilst feeling less tired. We offer gas mixes of up to 40% oxygen, which is the limit for recreational diving. Although the correct blend to use depends on the depth of the planned dive. Koh Lipe's deepest dive sites are the Yong Hua Wreck, 8 Mile Rock and Koh Yang.
If you are going to be doing a lot of dives on Koh Lipe you could consider diving with nitrox – you will feel less tired allowing you to both dive more and to enjoy your stay on Koh Lipe better. If you are a qualified diver, but not yet certified to dive with nitrox, don't worry the nitrox speciality diving course is only one dive. For more information see our nitrox courses page.
Yong Hua Wreck
Mild to Very Strong Currents with 30m – 40m Depth
This impressive wreck; a fish processing boat, 75 meters long, caught fire and sank in deep water not far from Koh Lipe over 12 years ago. The wreck is lying on its port side in 45 meters of water, rising up to 30 meters depth .Soft corals and sea fans have started to grow, attracting lionfish and scorpion fish. Groupers lurk in the dark opening and pelagics like tuna and trevallys can also be spotted here. During ascents a school of hundreds of large barracuda's often come in to circle divers on the line, completing a very impressive dive.
Highlights: The Wreck, Barracuda's
8 Mile Rock
Mild to Strong Currents with 16m-40m Depth
If you're not an advanced diver yet, now is the time to do it, because this is a top dive site, not to be missed!
This site consists of several submerged pinnacles reaching up from below 40 meters to 16 meters depth. 8 Mile Rock is one of the spots in our area where you are more likely to see Whale Sharks and Manta Rays, it's a great feeding ground for pelagics such as Barracuda and Trevally, which in turn can also draw in bigger things such as Sailfish. Deeper down, Leopard sharks are usually resting on the sand and a resident huge Giant Grouper can be found hanging out between the rocks.
The pinnacles are home to a good variety of marine life, in particular; Moray Eels, Lionfish and Scorpion fish, Underwater photographers with a sharp eye will have a great time searching for macro life and maybe lucky enough to find Ornate Ghost Pipefish hiding in the cracks. While on the safety stop, being circled by manta rays, devil rays or whale sharks makes the prefect end to any dive. Just keep your fingers crossed!
Totally exposed in the middle of the ocean 8 Mile rock can only be dived on certain days of the month, due to strong tidal currents. The best time to dive is just after half moon, so check your lunar calendar if you want to dive here. Because of the tidal currents, variable visibility, and the depth of this dive site, we recommend that you are qualified as an advanced diver or have similar experience.
Highlights: Leopard Sharks, Giant Grouper, Manta Rays, Whale Sharks.
Koh Yang (South)
Mild Currents with 5m – 30m Depths
A diverse site with lots of variation in scenery. Granite Fingers reaching down to the depths form sheltered bays with abundant marine life. Keep an eye out for macro life
Shallow bays with healthy hard corals are home to many reef fish including different types porcupinefish, pufferfish, butterflyfish and sea kraits. The granite rocks form steep walls with soft corals and deep cracks hiding various shrimps and pipefish. Deeper down, large boulders provide shelter for juvenile angel fish and spiny lobsters. This site can be dived many times in with a different experience every time.
Highlights: Sea Krait, Pipe Fish, Spiny Lobster