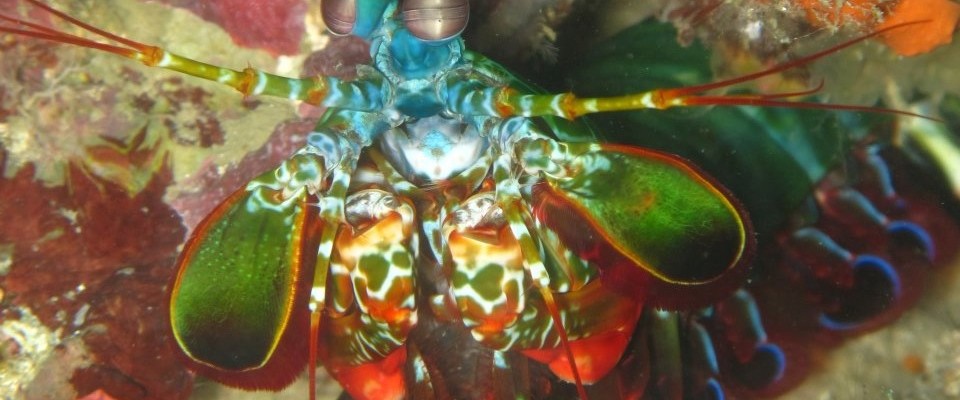 Peacock Mantis Shrimp
The Mantis Shrimp, neither shrimp nor mantis, receive their name purely from the physical resemblance to both the terrestrial praying mantis and the shrimp. They may reach 30 centimeters (12 in) in length, although exceptional cases of up to 38 cm (15 in) have been recorded. Mantis shrimp appear in a variety of colors, from shades of browns to bright neon colors. Although they are common animals and among the most important predators in many shallow, tropical and sub-tropical marine habitats they are poorly understood as many species spend most of their life tucked away in burrows and holes.
Called "sea locusts" by ancient Assyrians, "prawn killers" in Australia and now sometimes referred to as "thumb splitters" – because of the animal's ability to inflict painful gashes if handled incautiously– mantis shrimp sport powerful claws that they use to attack and kill prey by spearing, stunning or dismemberment. Although it happens rarely, some larger species of mantis shrimp are capable of breaking through camera lenses with a single strike from this weapon. In addition to their powerful strength Mantis Shrimp also have impressive eyesight and are extremely intelligent creatures.
For divers these little sand-dwellers are fascinating specimens to watch and photograph. Their erratic and speedy movements make them a bit of a challenge and their amazing array of colors and intense curiosity make them exciting to observe.